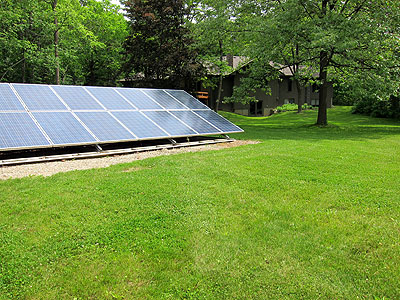 We're making, on average, 376 kWH of clean energy, monthly.

Since installing our solar array in February 2012 we've generated over 19.7 MWh of electricity reducing our utility bills by over $3,359. The system is connected to the Consumer's Energy grid which means our meter actually runs backwards on bright sunny days. It's called "net-metering". Overall, we generate more than one-third of our household electricity consumption, and we offset our carbon footprint.

You can check the data for yourself: click the sunny icon (left) to see the web-based data tracking. You'll find we established our single best day: 29.745 KWh on Wednesday 4/23/14. Ironically our previous record was set on the same day two years previously, 4/23/12: 29.724 KWh. April, it turns out, is a very good month for solar generation.
As the chart below illustrates, our solar array is most productive from March through October. December and January are the least productive months for generating electricity in Michigan.